Monster x Monster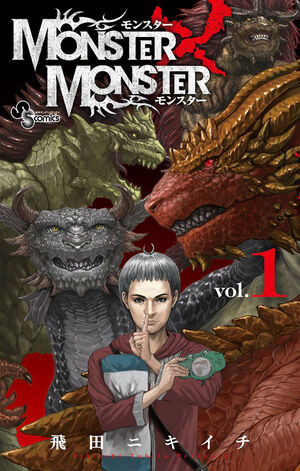 Information
Title:
モンスターXモンスター
Author:
Nikiichi Tobita
Original Run:
April 16, 2014 – July 24, 2015
Volumes:
3 (16 Chapters)
Genre:
Action / Comedy / Fantasy / Shonen
Monster x Monster (モンスターXモンスター, Monsutā X Monsutā) is a Japanese manga series written and illustrated by Nikiichi Tobita.
Once upon a time, this world was ruled by beasts. Humans no longer sat on top of the food chain, becoming the monsters' prey. However, those who would stand up against the monsters gathered together and they continued to battle against the monsters in order to survive against their rule. Since then, hundreds of years have passed... and now the "fight" against the monsters has become the "hunt" for the monsters.
A oneshot named Monster x Monster was published in the Weekly Shonen Sunday 2014-20 Issue. The same issue announced that the story will be made into a series, that will start in Shonen Sunday Super 2014-07, released on May 25th. In Shonen Sunday S 2014-07 Issue, the oneshot was published as Chapter 1 along with Chapter 2.
In July 24, 2015, the 1st part of Monster x Monster ended in Shonen Sunday S 2015-09 Issue, spanning 3 volumes.
Volume Guide
Edit
#
Release date
Volume
1
October 17, 2014
Volume 1

List of Chapters:

2
February 18, 2015
Volume 2

List of Chapters:

3
TBA
Volume 3

List of Chapters:
Chapters not yet in tankōbon format
Edit
Ad blocker interference detected!
Wikia is a free-to-use site that makes money from advertising. We have a modified experience for viewers using ad blockers

Wikia is not accessible if you've made further modifications. Remove the custom ad blocker rule(s) and the page will load as expected.